Unique moss displays with living plants for Financial Options Group in Bury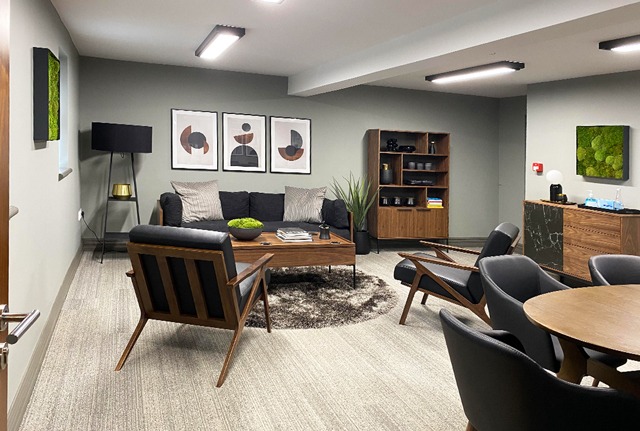 A hi-spec, low maintenance, installation refresh at contemporary offices in Bury
Unique domed moss containers and framed panels enhance the staff office areas
Stunning white orchids bring the wow factor to the contemporary boardroom
Spiky plants in a bespoke trough create a stylish screen in a sunken window shelf
Inleaf returned to Financial Options Group in Bury to refresh a previous installation.
The client is based in a beautiful stone building of taupe and grey shades, offset by copper accents. The décor is akin to a luxury hotel, so it was important that our installation reflected the same specification and colour palette.
We collaborated with the client's interior designer to create a seamless, contemporary space across both visitor and staff areas.
As part of the brief, the client wanted us to reduce the amount of ongoing maintenance required for the installation. To accommodate this, we swapped some living plants with preferred bunn moss throughout the building.
In the newly refurbished staff room, moss was presented as a unique domed feature in containers, and in framed panels containing a mixture of flat and bunn moss. There was also a matching moss bowl.
To bring the wow factor and a contrast to the moss, white orchids were placed in a copper bowl on the boardroom cabinet.
We designed a bespoke trough to fit snugly in a sunken window shelf that overlooks the car park. It was used to house spiky plants that have the dual purpose of enhancing the space while creating a screen in front of what is otherwise a dull aspect.
Further spiky plants were dotted around the staff areas in floor standing plants.
It's always a pleasure to return to an existing client and refresh an installation with new ideas and displays that reflect the character and branding of the company. We were also delighted to be asked to extend our services by installing moss features in the client's own home.
Next Steps...
Got a project in mind?
We're here to help.
Fill in the form below and one of our team will get in touch.