Partition Plant Displays
Plant partitions and room dividers
The healthy alternative to screens and walls
Plant partitions and room dividers are a perfect way to segregate areas within a building or room, without having to build a permanent structure. Coming in all shapes and sizes, they're a versatile addition to office design, being easily installed and relocated if required.
Take a look through some examples of office partition plant displays, installed by Inleaf.
We make getting plants for your workplace quick and easy. Here's how it works…
Step 1. Design consultation
The first step is to book your design consultation. This is a no obligation chat to discuss ideas and options for your scheme, and for us to advise on the office plants that are best suited to the conditions in each space.
Step 2. Delivery and installation
Should you wish to go ahead then we deliver and install your office plants. We prepare everything in advance so there's no hassle or disruption to you.
Step 3. Regular maintenance
Once installed, we visit regularly to maintain the plant displays and ensure they look great. If a plant suffers a natural failure or outgrows its position then we replace it for free.
Multi-functionality is a major benefit of plant partitions and room dividers
When it comes to using plant partitions and room dividers to segregate areas within an office or open space, you're likely to have different requirements depending on the area you're working with and what you want to achieve.
This is the advantage of using plant partitions and room dividers; you can configure them in whatever way you require. You may want to create a dividing plant display using a 3ft container with tall plants to completely partition two areas for privacy purposes, or a line of smaller plants as a room divider to simply create the effect of different areas within one room.
Whatever the height, width and construction, plant partitions and room dividers are a great way to create soft-separation between spaces, particularly in open plan offices. We can advise on the best combinations for your space.
Plant partitions and room dividers to improve acoustics
Particularly now, in a time when open plan is widely believed to be the most popular office layout, acoustics and echoing can be a regular problem. Plant partitions and room dividers can help contain sound and absorbing echoing.
Reception areas use plant partitions to guide visitors
Common or public spaces such as reception areas often use plant partitions to guide visitors by positioning them along a walk way or opening, creating a welcome and attractive first impression.
We're a friendly team that love creating planting schemes and managing projects through to fruition, so we do all the work. For you, the process is straightforward; we deliver and install your plant displays in the agreed locations and then visit regularly to maintain them.
Are our partition plant displays the ideal solution for you?
If you're looking to add plant partitions to your office space, fill in the form on this page, or call us to request a design consultation and we'll guide you through the process.
Free Product Guides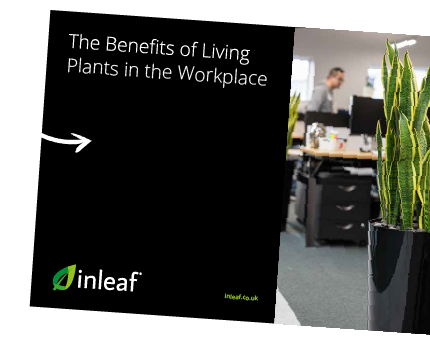 Download our free product guides to see examples of our work, product information and outline prices.
Enter your email address below to get free guides to all our products, plus occasional updates on our products and installations.