Christmas Trees & Decorations
Brighten up your space with trees and displays from our Christmas decorators
Our Christmas display service makes decorating your business easy and hassle-free
Christmas trees, lights and decorations will brighten any premises. But professionally designed and installed decorations will create the real 'wow' factor — lifting team spirits and impressing customers too. But installing the perfect Christmas displays in your business can be difficult and time consuming.
And that's where we come in. Our Christmas display service makes decorating your business easy and hassle-free. We offer a wide range of packages to suit all budgets and premises — large or small.
Take a look through some examples of some Inleaf Christmas displays to give you an idea of the effect. These have all been installed by our team.
Christmas Decorators Service
Our Christmas decorators service is here to bring a fantastic festive feel to your home or business without the hassle. This service includes:
Choosing the right Christmas tree(s) & decorations for your environment
Designing a colour scheme to complement your branding or décor
Delivering your tree(s), accessories & decorations to your premises
Installing everything in compliance with Health & Safety and to your specified design
Once the festive period is over we'll remove and recycle your tree(s) and all the decorations for you. And that means you don't need use valuable storage space to store bulky boxes of decorations!
Show your staff and clients you care at Christmas with a professionally decorated tree and accessories.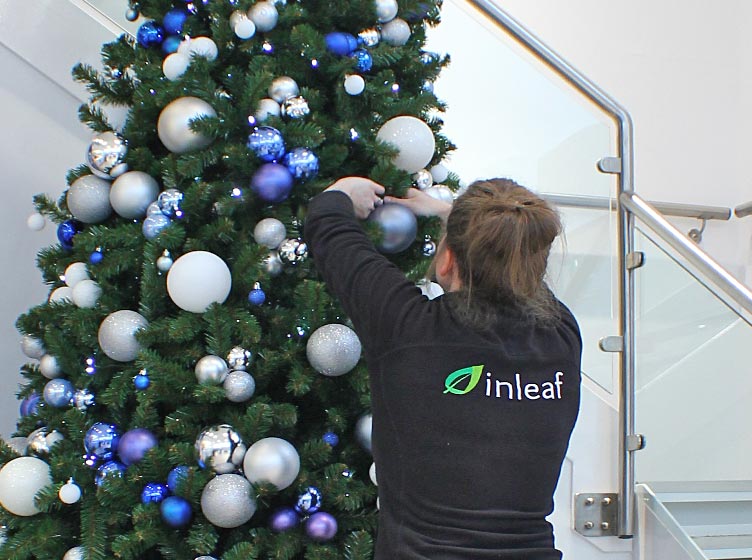 Step 1. Choose your tree size & style
All our Christmas trees look great and are of the highest quality, our style is simple and classic with white lights and lots of baubles. We then tailor each tree to suit your choice of colours.
Step 2. Install & decorate
Once agreed, our team will visit to install your decorated Christmas tree and any accessories, such as decorative presents, wreaths and garlands.
Step 3. Removal when the festive period ends
After Christmas we return to take your Christmas decorations down before taking everything away for you.
Book early to avoid disappointment
Popular Christmas decoration installation dates are reserved very quickly, please book early to avoid disappointment.
We're happy to discuss your requirements in more detail to estimate the costs for your Christmas decorations...