Package Range
Cost-effective office plant package displays
Our office plant packages provide a cost-effective way to benefit from living plants in your workplace.
Our office plant packages are available at a set price that works for you, with many options for colours, sizes and plant types to suit.
Take a look through some examples of office plant package ranges, installed by Inleaf.
We make getting plants for your workplace quick and easy. Here's how it works…
Step 1. Design consultation
The first step is to book your design consultation. This is a no obligation chat to discuss ideas and options for your scheme, and for us to advise on the office plants that are best suited to the conditions in each space.
Step 2. Delivery and installation
Should you wish to go ahead then we deliver and install your office plants. We prepare everything in advance so there's no hassle or disruption to you.
Step 3. Regular maintenance
Once installed, we visit regularly to maintain the plant displays and ensure they look great. If a plant suffers a natural failure or outgrows its position then we replace it for free.
The benefits of an office plant package
We focus on range, value and quality when compiling our packages to ensure that our clients reap all the health and productivity benefits of living plant installations (improved air quality, reduced stress, increased productivity), whilst still enjoying a diverse range of plants that look fantastic, at a competitively priced package rate.
An office plant package to suit your workplace
The range of plants that are included in our packages is extensive to help you create the best package for you. There are many plants to choose from when compiling a package, along with a comprehensive selection of container shapes, sizes and colours. We can also match the package with your décor or brand colours if required.
Our service is completely flexible. You can mix and match your display with other office plant types, and some clients like to add one or two designer office plant displays in premium spaces, as part of the wider scheme. We work through the options with you to ensure you get the right combination and that you're happy with the outcome.
We're a friendly team that love designing plant displays and managing projects through to fruition, so we do all the work. For you, the process is not disruptive; we deliver and install your plant displays in the agreed locations and then visit regularly to maintain them.
Building relationships with clients is extremely rewarding, and offering advice and ideas whenever possible is all part of the service we offer.
Is an office plant package the best option for you?
Our packages are based on providing the highest quality plants, contemporary containers and an expert installation and maintenance service, all of which is value-engineered to make the package as cost-effective as possible.
If you would like more information about our packages, please send us a message via our Contact page, or call us on 03335 770 770 to request a design consultation.
Free Product Guides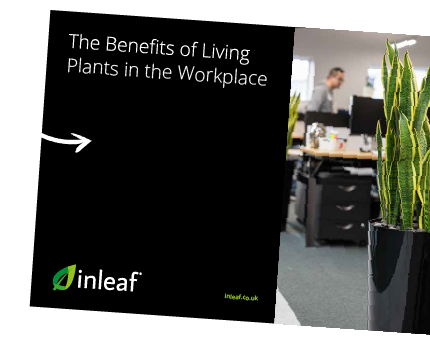 Download our free product guides to see examples of our work, product information and outline prices.
Enter your email address below to get free guides to all our products, plus occasional updates on our products and installations.