Two stunning moss walls bring a biophilic twist to contemporary offices in Leeds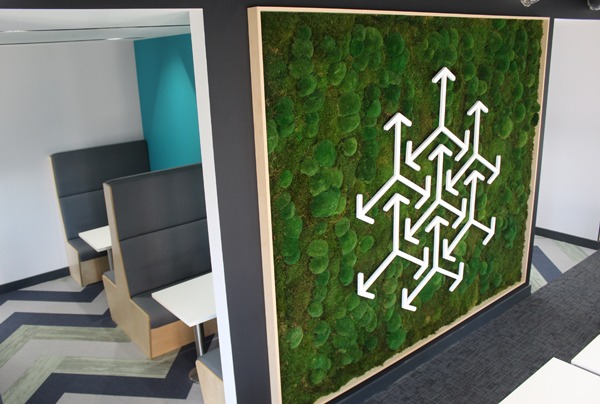 A mix of moss species gave the two identical moss walls added texture and form
We installed the walls on a Friday evening to meet deadlines while the building was under construction
A floating, white emblem was installed on both installations as a stunning visual feature
The client and staff will benefit from these biophilic features that enhance wellbeing
Inleaf were asked to install two identical moss walls in the central Leeds offices of communications agency, CDS.
CDS are a multi award-winning agency that works with creative, digital, print and technology businesses. They are trusted by some of the UK's most recognised organisations such as the NHS, the Ministry of Defence, and the Cabinet Office.
The company is based in newly refurbished offices in the Granary Wharf development area next to the Leeds and Liverpool Canal, in Leeds City Centre.
We were given the brief to install two large moss walls late one Friday evening, while the offices were under construction, to meet a tight lead time of just three weeks. During that time, we liaised and collaborated with signage companies and joiners to achieve a completion date a week ahead of the deadline.
The CDS offices have a sleek, modern interior with the furnishings and contemporary colour palette expected of a dynamic digital communications agency. Moss walls are becoming increasingly popular for such spaces as a stunning contrast that brings low-maintenance preserved greenery to the workplace.
The company places a great deal of focus on maintaining staff welfare. Understanding the health benefits of being around nature, the leadership team commissioned the moss walls to meet with their wellness objectives. The client and their staff will benefit from these biophilic installations that naturally enhance wellbeing.
We installed the two identical moss walls on different floors. The client agreed upon moss walls made up of a mix of moss species to add texture and form. A floating, large white emblem was centred on both installations, providing a striking focal point against the green moss.
Both moss walls were installed in work zones, where they will be seen by many members of staff, as a focal point and stark contrast to the historic, industrial buildings that can be seen through the large office windows. Being wall mounted, the moss walls also provide the additional, practical benefit of freeing up valuable floor space.
Next Steps...
Got a project in mind?
We're here to help.
Fill in the form below and one of our team will get in touch.