Reaching new heights with an artificial green wall installation in Leeds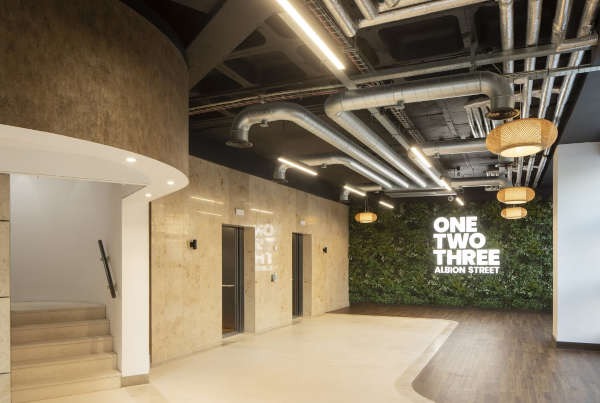 Three artificial green walls were installed in a refurbished entrance atrium in Leeds
The tallest wall reached 13 metres high, across three stories of the building
UV stability and fire retardancy were key considerations in the selection of plants
Specialist equipment was used to install the highest wall safely and efficiently
Inleaf were commissioned by Building Interiors to assist in a project to revamp the entrance atrium at 123 Albion Street, Leeds. The building is a mix of office rentals and residential spaces, managed by commercial agent, Knight Frank.
The brief was to install three artificial green walls: two in the atrium and one in the lift area. One of the walls in the atrium was thirteen metres tall, equating to three stories high.
UV stability and fire retardancy were key considerations for the selection of the artificial plants for this project. We needed to ensure that the plants we used were protected from damaging UV rays, and meet the directive that all wall coverings in public places must be fire rated.
To create the walls, we used bespoke panels from a mix of green foliages designed to our specifications. Foliage plants with green and white varieties on panels designed for Inleaf created an even blend without seeing obvious repetition, which is often the case with artificial green walls. Being artificial, maintenance is low while still creating a surrounding of lush natural greenery.
The three storey wall overlooks the glass-roofed atrium, and is visible from the office and meeting room windows, having an immediate impact on visitors, workers and residents. We used specialist equipment to install at height, which the Inleaf team have been fully trained to use. Our working area was sectioned off to keep passers-by safe.
We installed the third wall next to the lift area to provide coverage that brightens the large, open space and welcomes visitors and residents throughout the day.
The installation was well received by the client, commercial agent and building owner who were delighted with the transformation of what was once a blank, white space.
Next Steps...
Got a project in mind?
We're here to help.
Fill in the form below and one of our team will get in touch.