Office plants & exterior plants for Hemel Hempstead research company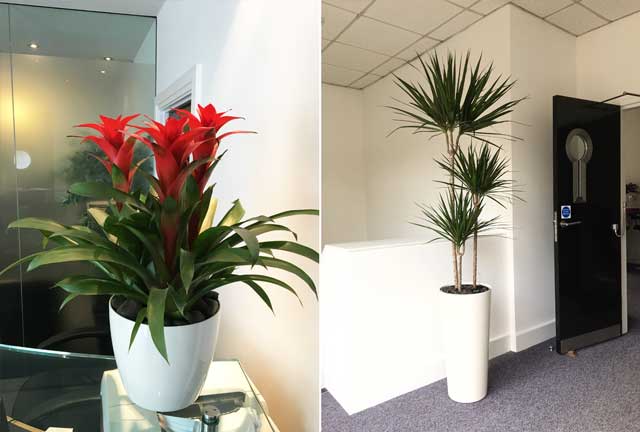 Inleaf installed eye-catching displays to give this Hemel Hempstead location a fresh look.
Package deal displays complimented with cost-effective exterior troughs.
The design includes a variety of interesting plants such as velvet tipped Sansevieria.
Inleaf will keep these displays looking vibrant with regular maintenance.
Inleaf's latest installation has been an exciting project for a Hemel Hempstead based research company.
The plain exterior was brought to life with modern gloss trough containers with low level plants to compliment the company signage. The trough theme was extended inside with classic window sill displays.
This office was keen to add colour and vibrancy to the space so Inleaf incorporated velvet-tipped Savsevieria to the break out room and bright red Guzmania in reception to reflect the company colours.
Inleaf Regional Director, James Gahan commented "Colourful installations are amongst my favourite projects due to the amazing impact they have on a space. The troughs for the front entrance really made this office stand out from others in this area of Hemel Hempstead."
Next Steps...
Got a project in mind?
We're here to help.
Fill in the form below and one of our team will get in touch.