Vibrant plant displays for Aylesbury office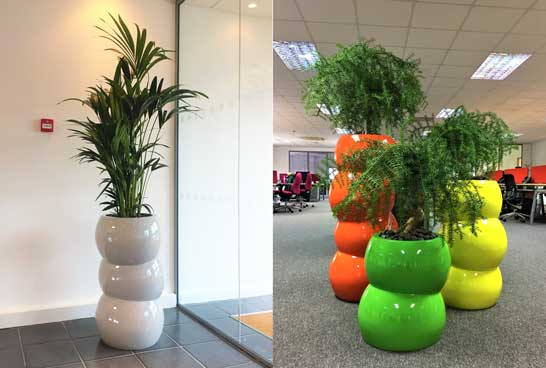 Inleaf installed bespoke colourful displays to tie in with this Aylesbury office design.
Hoop Pines planted to compliment the unique and modern style.
The scheme included a matching reception display.
Inleaf will keep these displays looking their best with regular maintenance.
One of Inleaf's latest installations included some eye-catching plant displays to bring some life into this Aylesbury based technology production company.
The spacious open plan office was perfectly suited for a centre point display which complemented the vibrant colours of the office interior. Araucaria Cunninghamii, also known as a Hoop Pine, is a species of Bonsai which is a perfect plant for an indoor environment.
The bubble shaped planter theme was extended into the Reception area to provide an attractive welcoming space for visitors.
This business park in Aylesbury is currently being development and Inleaf were delighted to help add some finishing touches to this office.
Next Steps...
Got a project in mind?
We're here to help.
Fill in the form below and one of our team will get in touch.