Adding plants to the Mix: Inleaf brings stunning plant displays to Mix Interiors' new office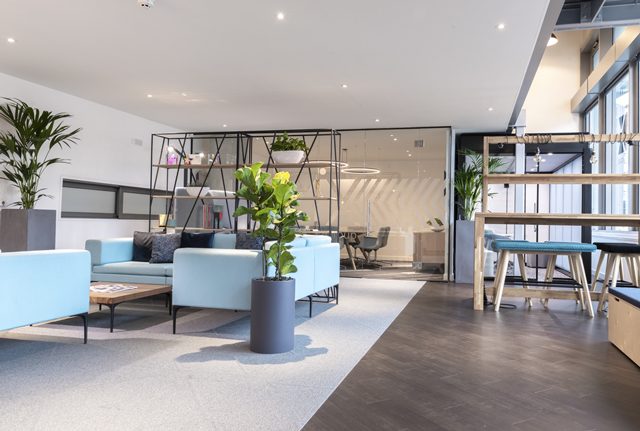 Inleaf recently installed living plants for the leading UK commercial interiors magazine
Different types of containers were used to showcase the current trends in office planting
We displayed a triptych of large, preserved moss frames on the reception wall
Tall, square, concrete-effect containers were planted with large palms to add height
We were in design heaven when we were asked to work at the Manchester headquarters of the leading UK commercial interiors magazine, Mix Interiors.
Known as the voice for cutting-edge design in commercial spaces, Mix Interiors is also the home of the coveted Mixology Awards. We had a lot to live up to!
Our brief was to showcase the best of the UK commercial interior design products and trends found throughout their refurbished offices, so we worked alongside Mix Interiors designers to create a comprehensive installation of on-trend living plants.
We provided an eclectic mix of different plants and containers to suit the various sections of the space. One of these was a triptych of large, preserved moss frames which we displayed on the reception wall. We added custom branding to the centre pane, therefore creating the dual purpose of a unique design feature with a branded touch for the welcoming space.
In the seating area we placed tall, square, concrete-effect containers, planted with large palms to add height and interest. Elsewhere on the lower floor, we planted a branched Ficus Lyrata (a fiddle-leaf fig) in a contemporary cylindrical container.
We were keen to reflect the trend for non-corporate living plant displays, so we added smaller plant displays in natural finish containers to Mix Interiors' own designer shelf units, made from welded metal rebar supports.
On the upper floor, storage-top planters with densely planted Sansevieria plants were placed on top of cupboards to break up the plain colours of the office walls. This is a very contemporary look that's proving to be extremely popular in the commercial interiors market.
This was an installation that gave the Inleaf team the opportunity to use different types and effects of containers that showcase the current trends in office planting, including natural finish containers.
Knowing that visitors would expect state-of-the-art design when entering their headquarters, Mix Interiors were delighted with the installation and told us that our designs were an authentic fit for their vision of how their workspace should look.
Image credit: Mix Media / The Vain Photography
Next Steps...
Got a project in mind?
We're here to help.
Fill in the form below and one of our team will get in touch.