Vibrant office plant installation for stylish Preston HQ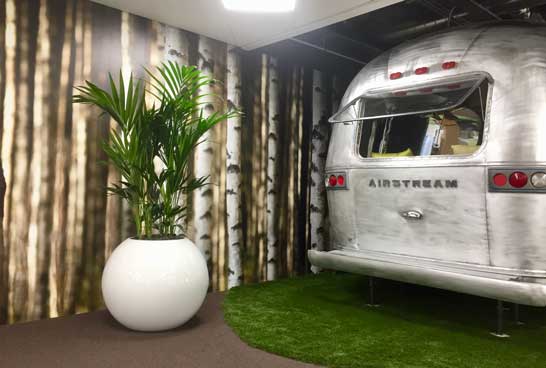 Living plant installation for a stunning new £3.5m office building project
A bespoke installation design for each different area of the building
Collaboration with the designer to create an inspirational work environment
Colours and design of living plants to complement branding and interior design
Inleaf were asked to work in collaboration with the designers of a new office building dubbed "the coolest workspace in Lancashire". The client, EKM, a leading e-commerce website provider company with 85 employees to accommodate, had taken inspiration from Google and Facebook for the design of the building, so we needed to be equally ambitious with our office plant installation.
Part of a £3.5m project, we were to work with the Interior designers to provide individual plant displays that were in keeping with each respective section of the unique development. There was a woodland theme in one area, and exposed lighting and trunking in another, so each area of the building required bespoke living plant creations.
We installed an oversized feature planter to complement the stunning double-height reception area, and a mixture of modern plants were used to help create a fresh, inspirational work environment throughout the office space.
As EKM are a leading-edge company, we installed illuminated planters to merge technology with the plant displays. Reflection of the branding was key across the project, so we installed orange-tipped spikey Sansevieria plants to complement their blue brand colours.
A quirky addition to the project was the Airstream trailer, located in the woodland area. We needed something equally dynamic to create the appropriate effect, so we surrounded the trailer with huge sphere planters with palms.
Black and white multifaceted planters were used to blend with the design of the desk partitions, and bespoke trough containers and planters were made to fit perfectly under the standard and spiral staircases. Our experience allows us to accommodate any structural challenges in our installation designs.
This was an installation that required multiple bespoke designs for one building, with a very high benchmark set by the interior designer. We were very pleased with the results, and more importantly, so was the client.
Next Steps...
Got a project in mind?
We're here to help.
Fill in the form below and one of our team will get in touch.