Meeting green expectations at a new office building in Manchester city centre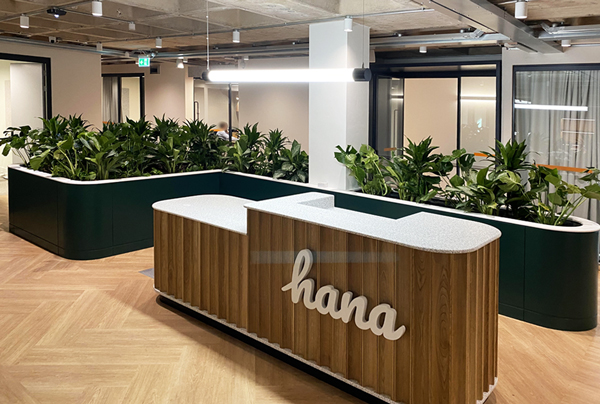 Living plants with a mix of textures were required for a new BREEAM office building
We were given a very specific brief to maintain consistency with other sites
The client requested an artificial installation in the kitchen area to add greenery
Large, jungle-like, lush planters were installed in the reception area
Inleaf were delighted to be asked to supply living plants to Hana at Windmill Green, Manchester city centre, a new office building opening in 2021.
Windmill Green is Manchester's first BREEAM (Building Research Establishment Environmental Assessment Method) Outstanding building. The site on Mount Street is the first Hana building outside of London in the UK, although there are other sites across North America.
Set over three floors, the offices are open plan, with communal work and kitchen areas, meeting rooms, phone booths and focus rooms.
The client brief was very specific, going as far as requesting particular containers and plants, to ensure that this new site had the same look as the other existing sites.
All of our plants were installed in communal areas due to the nature of the business. We put large planters in the reception area that are very jungle-like and lush, to tie in with the deep green bespoke planters on site.
With extensive coverage throughout the building, the plants have become an intrinsic part of the furniture and décor, alongside the larger floor standing displays. We were also asked to add an artificial installation to the main floor kitchen island, to add greenery without the worry of leaves falling into food and drink!
The installation consisted of a mix of Dracaenas, Monsteras, Algaonemas and small epipremnums in the huge planters, in keeping with the plants used at other Hana sites. For the free-standing plants, we used Ficus lyratas, Schlefflera's, Dracaeans and palms. This created an eclectic mix of textures, heights and shapes.
Being fully aware of the health benefits of living plants in the workplace, the client knew that such a substantial installation would not only create a calm, green space, but also improve the indoor air quality.
The client was delighted with the installation and is looking forward to welcoming customers who can benefit from the space in the new year.
Next Steps...
Got a project in mind?
We're here to help.
Fill in the form below and one of our team will get in touch.