Low maintenance artificial plants for foreign exchange company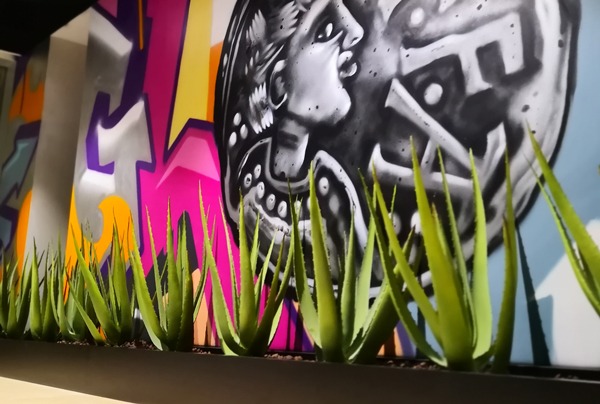 A range of premium quality, artificial plants were dispersed throughout the space
Troughs containing a range of plants were installed in the offices, kitchen and meeting room
Tall standing trees and plants were used to segregate areas and neutralise noise concerns
An Erica bush was installed in reception to create a focal point and add a touch of colour
Inleaf were asked to install artificial plants in the offices of foreign exchange company, Global Reach.
The client wanted extensive coverage but was keen to avoid future maintenance costs, so artificial plants were the ideal solution. Our premium artificial plants are so authentic to real, living plants that it's often only determined that they are artificial when touching them.
We were asked to distribute a range of troughs of artificial plants throughout the office space, meeting rooms and kitchen. In total there were 45 troughs containing a diverse range of artificial plants; grasses, leafy Algaonemas, Sanseviera plants, Cordyline plants and Aloe Vera.
Troughs are versatile, they can be positioned in a range of different places. For this installation, they were placed on storage tops, window ledges, in the centre of rooms and along walls.
An Erica bush was placed on the reception desk, which emulates the pink-tinted, needle-like leaves of the living version from the heather family, bringing a touch of colour to the space.
17 floor-standing trees and plants were also installed across the office space. Being tall, they were used not only for aesthetic reasons, but also to neutralise sound issues and segregate areas.
The standing trees and plants included Ficus plants, Croton plants, Dracaena Fragrans, Kentia Palms, Polyscias plants, Yukkas and Alocasias. By having such a wide range of floor trees and plants, we could create an installation that was more eye-catching, with the most appropriate shape of plant used for each individual space.
Global Reach were delighted with the results of the installation and gave us this fantastic feedback:
We worked with Faneau on our requirements for our new HQ. Plants were a major feature in our design planning so it was important we spent time working out what would work best for us in the space. Faneau is a real expert in his field and provided us with excellent service, advice and support throughout our design and install. We would highly recommend his services to anyone that requires a professional, well thought out plant design and installation service.
Next Steps...
Got a project in mind?
We're here to help.
Fill in the form below and one of our team will get in touch.