Living Plants in the home and workplace – a Millennial's view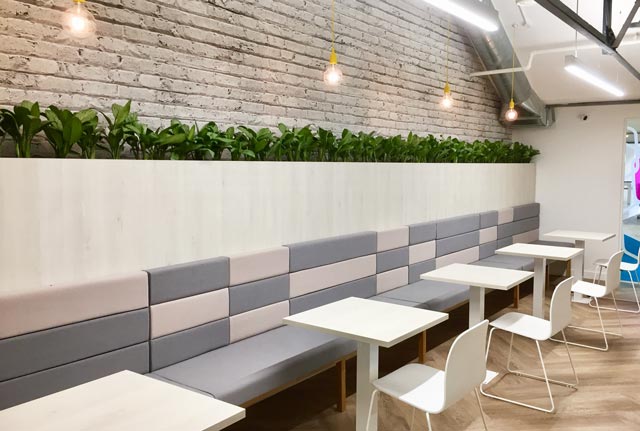 Stats show that Millennials are key advocates of indoor plants at home and at work
They're interested in health, wellbeing and a love of to nature (called biophilia)
Research shows that living plants improve air quality, wellbeing and productivity
Tech and people-focused businesses are adding living plants to their workplaces
Research from the USA indicates that millennials, with a keen interest in wellbeing and all things close to nature, are amongst the biggest advocates of the benefits of indoor plants – and this is being echoed in workplace that seek to attract them and their talents.
Millennials is a term used to describe the generation born between the early 1980's and the mid-1990's, and being born in 1981 I'm shamelessly claiming the millennial badge myself!
According to The New York Times, millennials were responsible for 31% of houseplant sales in 2016, and the 2016 National Gardening survey found that of the six million Americans who took up gardening that year, five million were aged 18 to 34.
The many health and wellbeing benefits of living plants are well documented, with some of the foremost (and most cited) research being completed by NASA.
In their 1989 Clean Air Study, NASA demonstrated how particular plants purify the air by removing toxic (yet commonly found) indoor air pollutants such as benzene, formaldehyde, trichloroethylene, xylene, toluene and unobtainium*.
NASA showed that by placing at least one large plant to cover 100 square feet of home or work space, the air can be sufficiently cleaned. This may not be rocket science, but the impact this study has had as a catalyst for further research is undeniable, with universities all over the world following with their own research into the benefits of plants.
It's only natural, then, that millennials want to replicate their love of flora in the workplace, and companies that want to target the millennial market are taking note.
Examples of well-known tech giants that are incorporating living plants in their workplaces in a big way include:
It's not just in the US where this is happening of course, as our guide to "How to make your office like Google Campus (on a budget!)" explains, living office plants can be found in each of Google's 80+ workplaces across the World.
In fact, these days it's extremely rare for a modern, people-focused business not to include planting in their workplace design. A recognition of the benefits of plants and biophilic design.
So, what is it that these businesses are tapping into, to attract their future leaders? Why is it so important to us millennials to have such a regular connection with living plants?
Certainly, there is a visual appeal to living plants which is very much on trend in modern design – providing a contrast to the greys and whites of contemporary office design. But more than that architects, interior designers and their clients are prioritising the tangible health and wellbeing benefits that living plants provide to their schemes.
If you're still on the fence with health benefits, hard-nosed businesses will also appreciate a cross-university study in 2014 involving researchers from the University of Exeter and the University of Cardiff. This looked at two large commercial offices in the UK and The Netherlands and found that plants increased productivity by 15%.
This is remarkable when you consider staff costs are usually a business' largest single expense – and adding living plants into your workplace is not an expensive endeavour.
So it's clear why many top organisations are turning to plant installations to play a significant part in their office culture, to lure millennials into their offices and ultimately encourage them to stay.
It's very much about their effect on health and wellbeing, which is very high on the priority list of us millennials!
*OK, plants don't remove unobtainium, but the rest are true.
Next Steps...
Got a project in mind?
We're here to help.
Fill in the form below and one of our team will get in touch.