Bring festive cheer with professional Christmas tree rental from Inleaf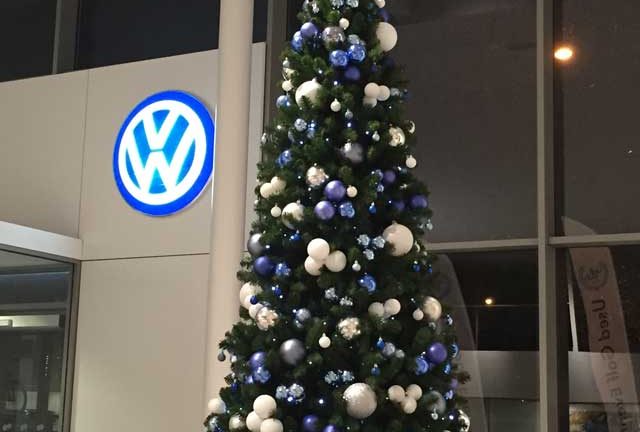 Christmas display installations have begun in earnest
Eye-catching modern designs bring the wow factor
Bespoke installations reflecting company branding and décor
Bookings now being taken for installations — don't miss out!
This was originally posted late November 2017.
The Inleaf elves are in full flow, preparing and installing beautifully crafted Christmas displays to decorate offices, showrooms, leisure outlets and retail spaces. Our displays include trees, garlands and accessories – but strictly no tinsel!
We're proud of all of our beautiful living plant displays, but this is our favourite time of year because we get to have fun with colour, lights and all things Christmas. We provide businesses with stunning festive installations that make an impression on anyone who visits their premises.
Our first 2017 festive display was installed a couple of weeks ago at Manchester Victoria Station. The eye-catching 12ft tree was decked in blue, purple and pink baubles, finished with a striking purple bow. It will certainly brighten the mood of lethargic commuters on their way to work!
A stunning festive display can speak volumes about the culture of your business. A tired tree with sporadically placed decorations gives an impression of apathy and make-do, whereas a high quality, professional display stands proud alongside your branding and workplace environment.
Why use a professional company to install your Christmas display?
By bringing in the professionals like the team at Inleaf to install your Christmas display, you are reaping some important benefits:
Hassle-free service. A professional company takes away the worry and time-consuming organisation of sourcing products and installing your Christmas display
They know how to create the wow factor. A professional company will use eye-catching, on-trend designs.
Delivery and collection. You don't have to source and dispose of your tree, garland and accessories, it's all done for you.
Why commission us to design and install your Christmas display?
At Inleaf we offer a wealth of experience in creating fabulous displays. We provide an unrivalled service, tailored to the needs of your business:
Living plants are for all year round, not just for Christmas! We supply living plants, living walls and artificial plants to premises throughout the year so we know how to create impact, and what kind of plants thrive in different environments
Our style of Christmas tree is modern and simple, oozing quality
We provide a bespoke service by tailoring the colour schemes to match the client's tastes, branding or décor
Installations are undertaken in many areas across the country
In a nutshell, we get to know your requirements, create an amazing display, install it on an agreed date, and take it away when the festive period is over. It's a very simple process.
If you haven't given your Christmas display any thought yet, be aware that the most popular dates for installations are early December. We do currently have availability w/c 4th December but that won't be the case for very long.
Get an online quote
Interested? Visit our Christmas tree rental prices page to get a custom quote for decorated Christmas trees, wreaths and garlands for your location, or get in touch and we'll be happy to help.
Please get in touch for more information, we'd be delighted to chat through some options with you.
Next Steps...
Got a project in mind?
We're here to help.
Fill in the form below and one of our team will get in touch.