Delivering design-led displays: Inleaf bring stunning office plants to design company's HQ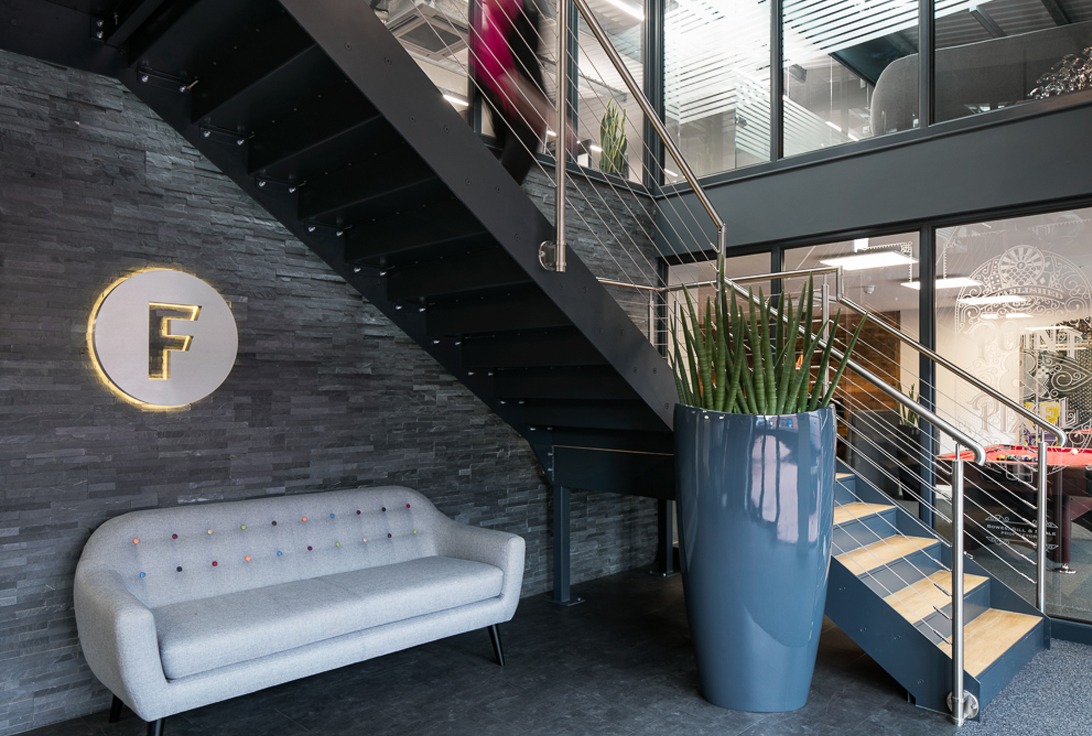 Close collaboration with the client to create an impressive, contemporary scheme
Ovation planters of different colours installed to complement furnishings
Colour-tipped Sansevierias dotted around desktops for a vibrant contrast
A design-focussed, productive environment ready for the grand opening
At the end of 2017, leading design agency, Forepoint, moved into their new premises, aptly named Momentum Place, in Bamber Bridge near Preston.
The project took two years to complete, with emphasis on a high-end finish. They wanted to create a unique, professional workspace in which they would be proud to entertain clients, partners and suppliers.
Having read our case studies and understood our expertise in providing design-led indoor plant installations, we were approached by Forepoint were confident that we could to create living plant displays throughout their new home, in-keeping with their sophisticated, contemporary design.
Forepoint wanted to combine the health benefits of indoor plant displays with the wow factor that would reflect the high calibre of their clients and employees.
The entrance to the building has a double height space where we placed a feature display of oval planters. In the meeting space downstairs, we installed ovation planters in different colours to complement the furnishings.
As a nod to the innovative design of the surroundings, spikey, colour-tipped Sansevierias were dotted around desktops. The vibrant colours, also subtly found in elements of the interior design, provide a playful contrast to the greys and blacks of the contemporary walls, furniture and fittings.
We worked very closely with the client to realise the vision of a professional, modern work place that reflected a design-focussed, productive environment. The work was complete in time for the simultaneous Grand Opening and 25th birthday celebrations.
We fully maintain our installations on site to ensure they continue to complement the fresh, high-end specification of the building's interior.
Next Steps...
Got a project in mind?
We're here to help.
Fill in the form below and one of our team will get in touch.