'Hanging baskets' lead creative planting scheme for Manchester office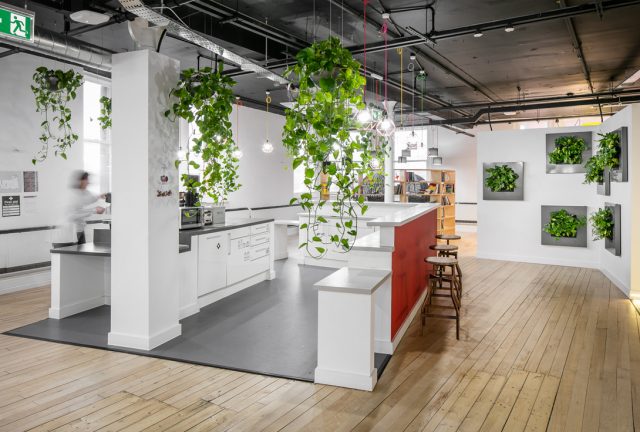 Inleaf installed living office plant displays in this iconic Manchester building
Unusual, disordered spaces required innovate design and bespoke installations
Hanging plants were used to create soft textures and a fresh environment
Clean-cut framed planted wall-units arranged in a random design added to the scheme
Software company Thoughtworks recently asked us to provide a design-led living plant scheme for their new Manchester office. They'd recently moved into Federation House; an iconic building which is home to artists, galleries and design companies.
With their office — and infact the entire building — having recently been refit by interior design guru Atul Bansal of Manchester-based Sheila Bird Group, they wanted to add living plants à la Atul's highly creative signature style.
Taking a clear steer from Atul, we sought to provide an office plant scheme that brought the brief to life, taking advantage of the high ceilings and industrial-feel fixtures and fittings in the space.
There were unusual spaces such as the 'street', leading from the entrance to the kitchen and collaboration area. Here, there were integrated mirrors and quirky, deliberately 'higgledy-piggledy' walls and doorways with not a right angle in sight! Inleaf plants were draped over the end wall, to provide an introduction to the greenery that would be found in the kitchen.
For the kitchen area, we wanted to mimic the industrial feel of the space. Bespoke 'hanging baskets' were created from grey half-sphere containers and planted with long trailing plants throughout the space. These were placed at different heights, suspended with industrial steel wire. It was simply a nod to the surroundings, but small accents like this added authenticity to the installation.
To accentuate the feature bookcase that separates the desk work space from the training area, we dotted small planters in the book spaces amongst the fun and random keepsakes and items that the client had gathered over time.
Elsewhere, clean-cut framed living wall units were installed and planted with mixure of plants to create varying textures. They were arranged in a random fashion to provide contrasting texture effects, and in keeping with the disordered walls and doorways.
Working with Atul and Thoughtworks in this iconic building with its incredible interior layout, gave us the opportunity to be creative and deliver installations that reflected the ambiance of the setting and all its quirky features.
It was a fantastic project to collaborate on. We're really happy with the result.
Next Steps...
Got a project in mind?
We're here to help.
Fill in the form below and one of our team will get in touch.