Exterior living wall for new Costa drive-thru in Ashton-Under-Lyne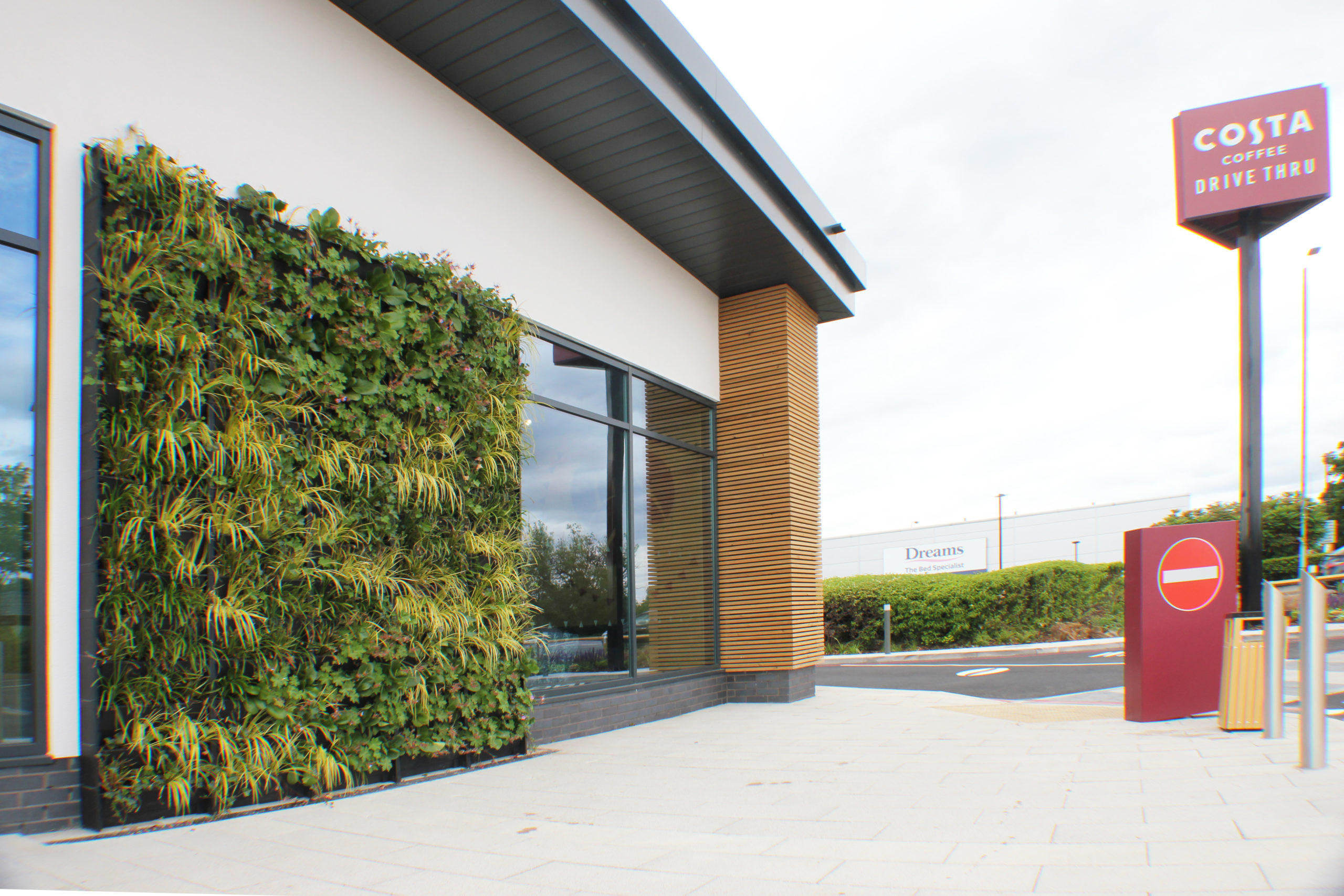 We designed and installed this 9m² exterior living wall at the Costa Coffee store
Including suggesting a planting scheme for review by landscape architects
It features a leafy plants for the evergreen living wall
It's fitted with an irrigation system for automatic watering
Inleaf were approached by a construction company who needed advice on installing an exterior living wall at a new Costa drive-thru in Ashton-Under-Lyne.
The drive-thru was a new building added to the centre of the car park of a well-established retail park. The architect's plans had included the living wall, but the construction company didn't have the expertise to install it.
We spoke to the contractors over a number of months on a consultancy basis about what would be required structurally for the wall, and which plants would be best to include.
Once we received the go-ahead to install the 9m² living wall, we set about designing the planting scheme which was reviewed by landscape architects.
The leafy plants we used to create the living wall were:
• Shade loving heuchera with its vibrant shades
• Hedera helix, an evergreen climbing plant
• Dark green leaves of the compact and dense Carex Silver Sceptre
• Alchemilla mollis, or Lady's Mantle, with its fan shaped leaves
• Creamy yellow sword shaped leaves of Acorus gramineus
• Liriope muscari, a neat, low grassy foliage
• The tough and low maintenance Vinca minor
The living wall has a plant irrigation system and is also maintained by Inleaf on a regular basis. It took just a couple of days to install the wall which now provides an aesthetic focal point of greenery at the centre of the concrete car park.
Next Steps...
Got a project in mind?
We're here to help.
Fill in the form below and one of our team will get in touch.