Office plants added to Desg Cardiff to enhance an existing installation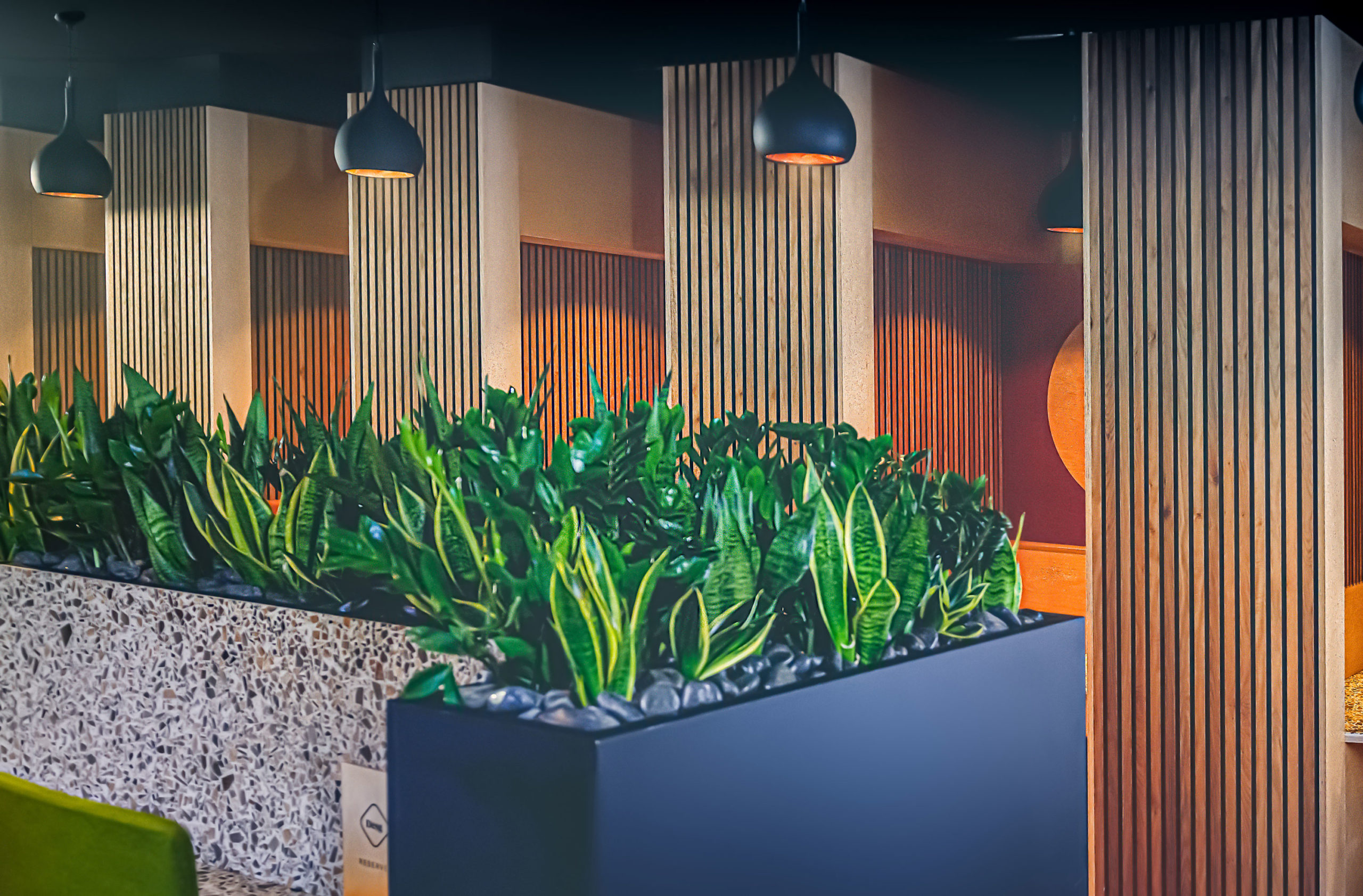 We were asked for more living office plants to add to the existing sneeze screens
Large standing pots were added to the first floor for colour, warmth and texture
A selection of tall, leafy plants brightened the ground floor co-working spaces
Future work with the client was secured for a new office building in the near future
Inleaf were asked to return to Desg in Cardiff to add living office plants to the scheme we installed last year.
The Pontcanna building is a state-of-the-art shared office space with unique, contemporary features. We'd previously designed and installed plant sneeze screens for co-working clients when they began to return to the office as Coronavirus restrictions began to ease.
Desg wanted to add to their living plant scheme, this time in freestanding containers, in both the communal areas of the first floor of rented offices, and the co-working floor below.
On the ground floor we placed large floor-standing sansevieria trifasciata 'Laurentii' plants at the entrance, a marble queen plant on the reception desk and a tall, thin philodendron scandens plant in a main corridor to add colour and warmth.
For the first floor, the plants were to add accents to the communal areas outside the offices that are privately rented. In freestanding dark grey pots, we planted philodendron scandens, strelitzia nicolai and zamioculcas zamifolia plants, all of which are tall leafy plants that add texture and colour to the shared spaces. We also added marble queen plants and sansevierias to tabletops in matching grey pots.
Based on our work with Desg for the Pontcanna building, we will be working with the client again on their next design-led project at another office building, which we look forward to being involved with.
Next Steps...
Got a project in mind?
We're here to help.
Fill in the form below and one of our team will get in touch.