Artificial mixed planting for a trendy Newport brewery bar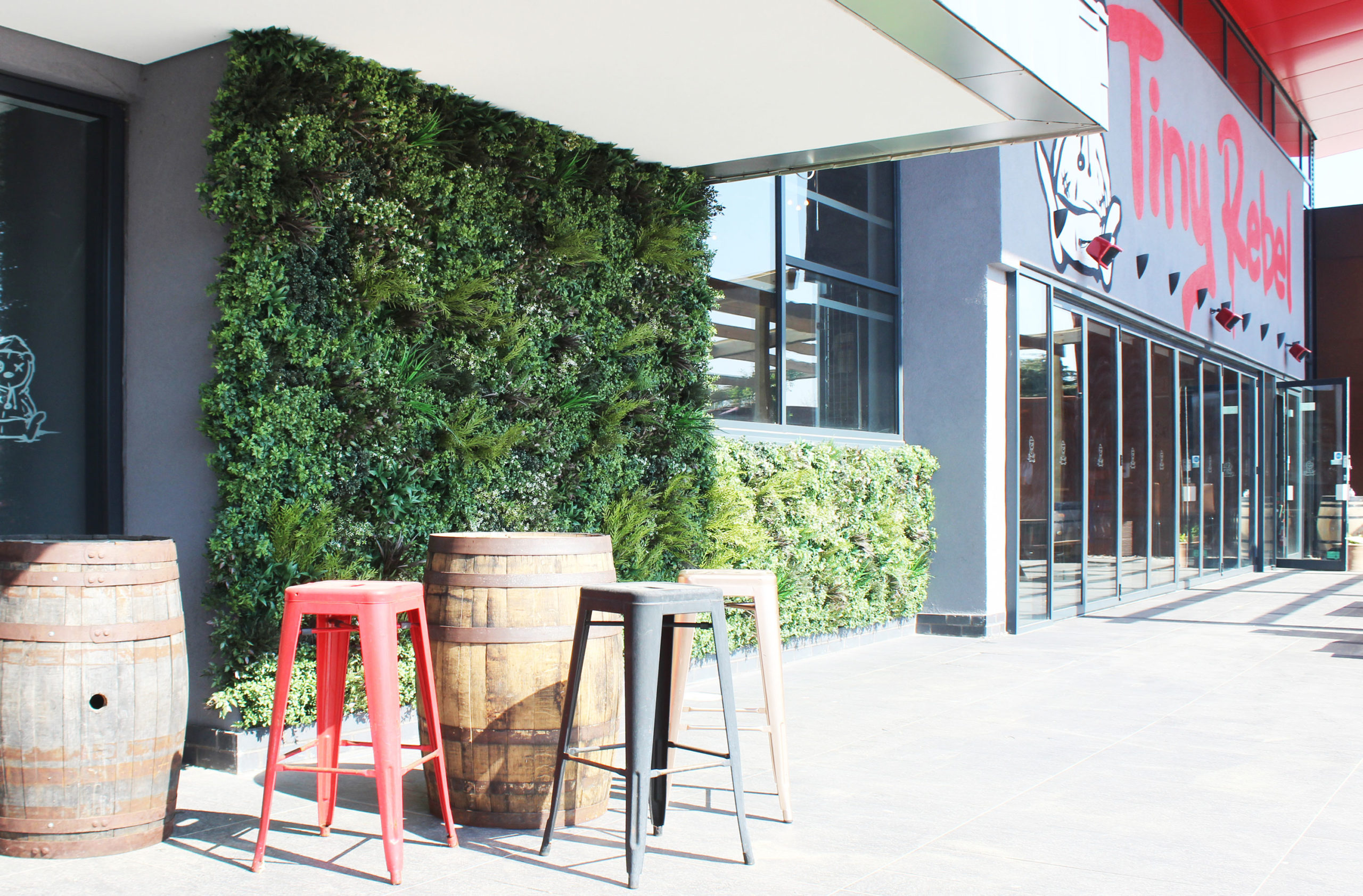 Two large mixed plant walls were filled with high end artificial greenery
Pergolas outside were decorated with realistic plants of different shades of green
Hanging plants were installed in a metal ceiling frame to create a jungle look
Wooden troughs were filled with mixed artificial planting to segregate bar areas
Our client, Tiny Rebel, is an award-winning craft brewery that produces beer aimed at the younger market. They decided to use lockdown to give the brewery bar in Newport a refresh with a bold decor, and asked Inleaf to replace the existing, dated plant scheme with a more on-trend installation.
The seating area of the bar extends outside. We were asked for artificial foliage to decorate the pergolas. To make them look as natural as possible, we interweaved plants of various shades of green, including olive leaves, Japanese bamboo and ivy. They were hung just beneath the pergolas to give the impression that they are growing out of them. All of the foliage has built-in UV protection to avoid discolouration.
Two 23m² artificial mixed planting walls were filled with high-end artificial plants, providing substantial coverage. One of the walls will soon become a focal point with a large neon Tiny Rebel logo attached.
A metal ceiling grill was filled with a range of artificial plants that hang down, creating a jungle-like theme. We focussed on volume to make sure we created a busy, full look.
To divide sections of the bar we supplied bespoke wooden troughs filled with artificial plants that complemented the foliage on the pergolas, ceiling and walls. Large grey pebbles were used to line the troughs.
The artificial foliage we used across the installation included buxus, Boston fern and grass sword.
This is an ongoing project with more phases already in the planning stages.
Next Steps...
Got a project in mind?
We're here to help.
Fill in the form below and one of our team will get in touch.