An out of this world installation for a space sector recruitment company in Bristol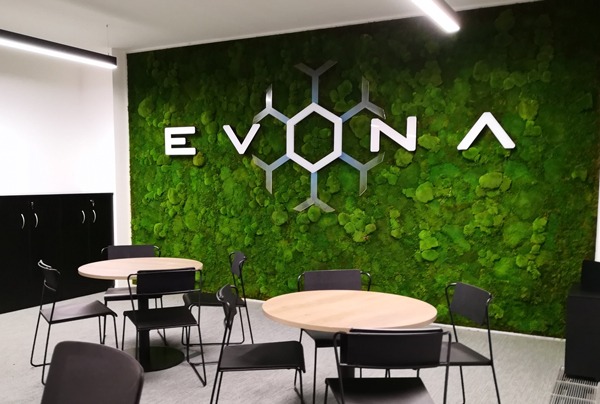 We were asked to create a sleek, on-trend design for a young, dynamic workforce
An illuminated, large moss wall was a unique addition to this installation
We included a variety of desktop and floor plants in contemporary matt black containers
Blue-tipped Sansevieria plants were used to match company branding
Inleaf were commissioned by EVONA of Bristol, recruiters for the space sector. They asked us to create a living plant installation that reflected the ultra-modern culture of this young, dynamic company. EVONA are just a few years old and going from strength to strength in a particularly interesting niche market.
The brief was for a minimalistic and sleek design that complemented the outer space connection with the brand. We needed to ensure that the chosen living plants were on-trend and impactful, while also creating a healthy, feelgood environment for the workers at the company.
The most unique element of this installation was the illuminated large moss wall in the main office area. We collaborated with the client's signage company to create the illusion that the light is beamed through the moss. The wall depicts the scene of rover tracks on the moon with the moss resembling craters. The effect was stunning, and the moss wall is now very much a focal point of the office area.
At the entrance to the main office, we installed a bespoke 1.9m matt black trough of Sansevieria Zeylanica plants. The trough is effective both for its immediate visual impact upon entering the main area of the office space, and for accentuating the layout of the room.
In the boardroom we installed a living wall unit of mixed, leafy plants in a white frame. At 1920 x 70 x 720mm in size, the unit is a substantial, stunning feature. This, and a couple of floor plants and desktop plants break up the monotony of plain walls and bring colour into a room of neutral shades.
Throughout the kitchen and main office areas, we dotted around desktop/cupboard-top plants, including Scindapsus Aureum, a loose leafy plant, the smaller-leaved Peperomia Angulata Rocca Scuro and fern-like Asparagus Plumosus plants.
For spiky alternatives, we included Sansevieria plants and Asparagus Plumosus plants to match the company's branding.
All desktop and floor plants were housed in matt black containers that have a dark grey look, thereby in keeping with the neutral office décor. All plants also have a self-watering system to keep maintenance to a minimum.
Next Steps...
Got a project in mind?
We're here to help.
Fill in the form below and one of our team will get in touch.