A living wall with a difference: Inleaf install stunning air plant wall in this Manchester office reception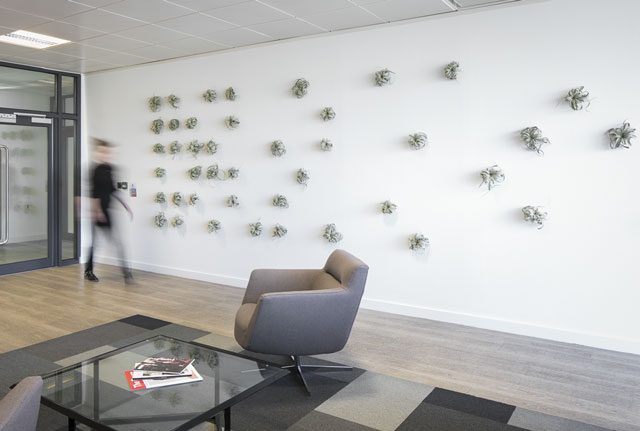 Inleaf installed this unique living wall in an office reception
Made up of 50 individual tillandsia xerographica air plants
Arranged in a design symbolising 'digital creativity' going from order to random
Matched with designer floor-standing plant displays with sansevieria cylindrica fans
We're really pleased with this unique living wall – with a difference.
Created for our digital agency client for their Manchester office, we designed, installed and now maintain this unique living wall featuring 50 stunning air plants.
We created the layout as a nod to the client's specialism in digital and creative projects. Spans the large wall in their reception area the left starts as an ordered matrix before transitioning to an analogue, random arrangement towards the right.
Air plants are unique and unusual. Rather than being planted in soil they take their nutrients from the surrounding air (with a little extra feed and water provided by our maintenance team during their regular visits).
They're naturally found in the forests, mountains and deserts of northern Mexico and south-eastern United States, Mesoamerica and the Caribbean to mid Argentina.
The tillandsia xerographica air plants were chosen due as their large, attractive form. They work well in the overall layout whilst also providing their own individual unique form. The plants were secured with stainless-steel prongs which we specifically manufactured for the installation.
Alongside the living wall we also added oversized floor-standing plant displays featuring sansevieria cylindrica fan plants in oversized designer containers.
Overall client feedback has been great – "We love the air plant wall".
Next Steps...
Got a project in mind?
We're here to help.
Fill in the form below and one of our team will get in touch.