A vibrant installation for the newly refurbished Tilemaster Adhesives head office in Leyland, Lancashire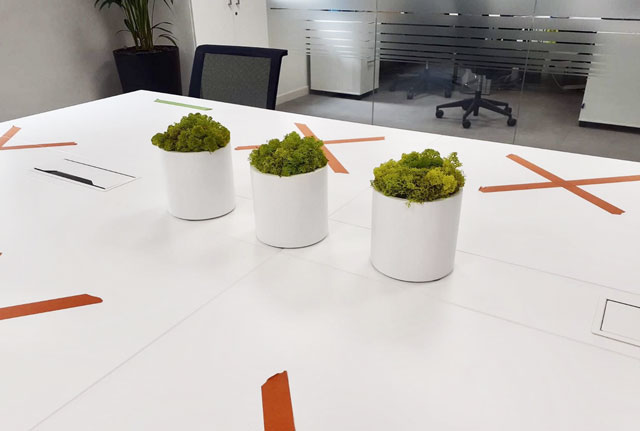 We were commissioned to install office plants at Tilemaster Adhesives' headquarters in Leyland, Lancashire
Matt white and grey planters were used to match the palette of the refurbished walls and furniture
An orange spiky plant and an orange planter were used to add colour and match company branding
Interior design favourite, Ficus Lyrata plants were requested and installed in the meeting room
We were approached by Tilemaster Adhesives to install office plants at their headquarters in Leyland, Lancashire to add some colour and vibrancy to their newly refurbished offices. Tilemaster were very happy with the refurbishment that had been completed to a high standard, but felt the stark white and grey colour scheme made the rooms impersonal and lifeless.
Inleaf plants were to be installed throughout a large proportion of the building, including the offices, rather than just the client-facing areas. Staff were consulted on the kind of office plants they wanted in their workspace just before the country went into lockdown. It was important to the company that the plants were installed, ready for the staff returning to work.
The Tilemaster warehouse-style building offers a bright, open office space. Along the grey painted corridor that leads from the top of the stairs to the offices, we installed moss frames of different sizes to make the area less clinical. In a space that was too narrow to accommodate floor standing plants, the slim moss frames were an ideal choice. They also have no need for natural light or maintenance, other than a quick dusting.
We were asked to soften the space with plenty of leafy green office plants, using planters that matched the matt white and grey palette of the walls and furniture. In the General Manager's office we added colour with a bright orange planter and a spiky desktop plant with orange tips, to match the company's green and orange branding.
A range of different sized plants were used in the installation. Having seen feature Ficus Lyrata plants on the Inleaf website, the client requested two of these for the meeting room. These plants are often seen in interior design magazines and are currently on-trend.
For the boardroom, we brought in tall Howea palm plants to add height, along with small tabletop containers with preserved reindeer moss, that we placed in the centre of the boardroom table. These were a practical addition, being easy to see over, and no need to be moved during a meeting.
Feature partition planters with Sansevieria plants were dotted around the offices, under windows and along walls in white planters, to make the large rooms less sparce.
The client was pleased with the installation, particularly as it was ready for staff returning to work at the Leyland offices after lockdown. We hope to be able to assist with another installation at their second site.
Next Steps...
Got a project in mind?
We're here to help.
Fill in the form below and one of our team will get in touch.