A modern installation for a refurbished hotel in rural Port Talbot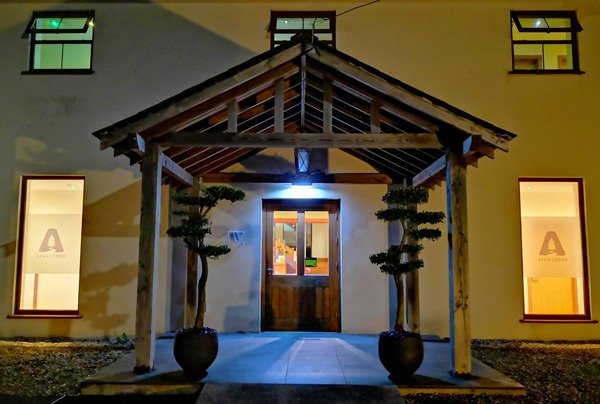 Leafy plants of different types were used to complement the hotel décor
Pottery style matt black pots create a modern, yet rustic feel, popular with customers
Eye-catching Sansevieria Laurentii plants make a lasting impression near the exit
Cloud pruned olive trees become a talking point at the entrance to the hotel
Inleaf were asked to help bring back to life a much loved hotel, located in the hills above Port Talbot.
Afan Lodge had been closed for some time when it was earmarked for refurbishment through the Pen y Cymoedd Wind Farm Community Fund CIC (PyC CIC). PyC CIC felt it would be hugely beneficial for the local community if the hotel reopened.
The brief was to create an installation that was modern, but not so contemporary that it would alienate the target clientele. The area is known for outdoor activities such as mountain bike trails and hiking so it was important that people enjoying outdoor pursuits would feel welcome and comfortable in the hotel surroundings.
We were asked to install plants in the entrance area, restaurant and bar. Afan Lodge has an open plan feel with communal areas that have a coffee bar or café atmosphere. By contrast, the restaurant is more traditional with warmer colours. We needed to choose plants that were suitable for both room styles.
In the bar and restaurant we installed tall, leafy Ficus Cyathistipula plants, larger leafed Strelitzia Nicolai and the more glossy-leafed Zamioculcas Zamifolia plants to contrast with the warm tones of the decor.
We used pottery style pots in a matt black that looks like dark grey, to provide the rustic feel that walkers and outdoor enthusiasts appreciate. All pots had a pebble-top dressing and a self-watering system.
By the exit door we positioned a matt black trough to hold eight eye-catching Sansevieria Laurentii plants. Sansevieria plants are ideal in areas with high traffic as they keep their upright appearance and don't splay over walkways.
The most unique feature of this installation was the cloud pruned olive trees at the entrance to the hotel, designed to offer a premium welcome to visitors and passers-by. The trees were housed in extra large matt black pots, in keeping with the rest of the installation.
The trees have proved to be very popular, receiving comments regularly from people passing or using the hotel.
Next Steps...
Got a project in mind?
We're here to help.
Fill in the form below and one of our team will get in touch.