A mixed installation of living and artificial plants for vegan restaurant Pastan in Bristol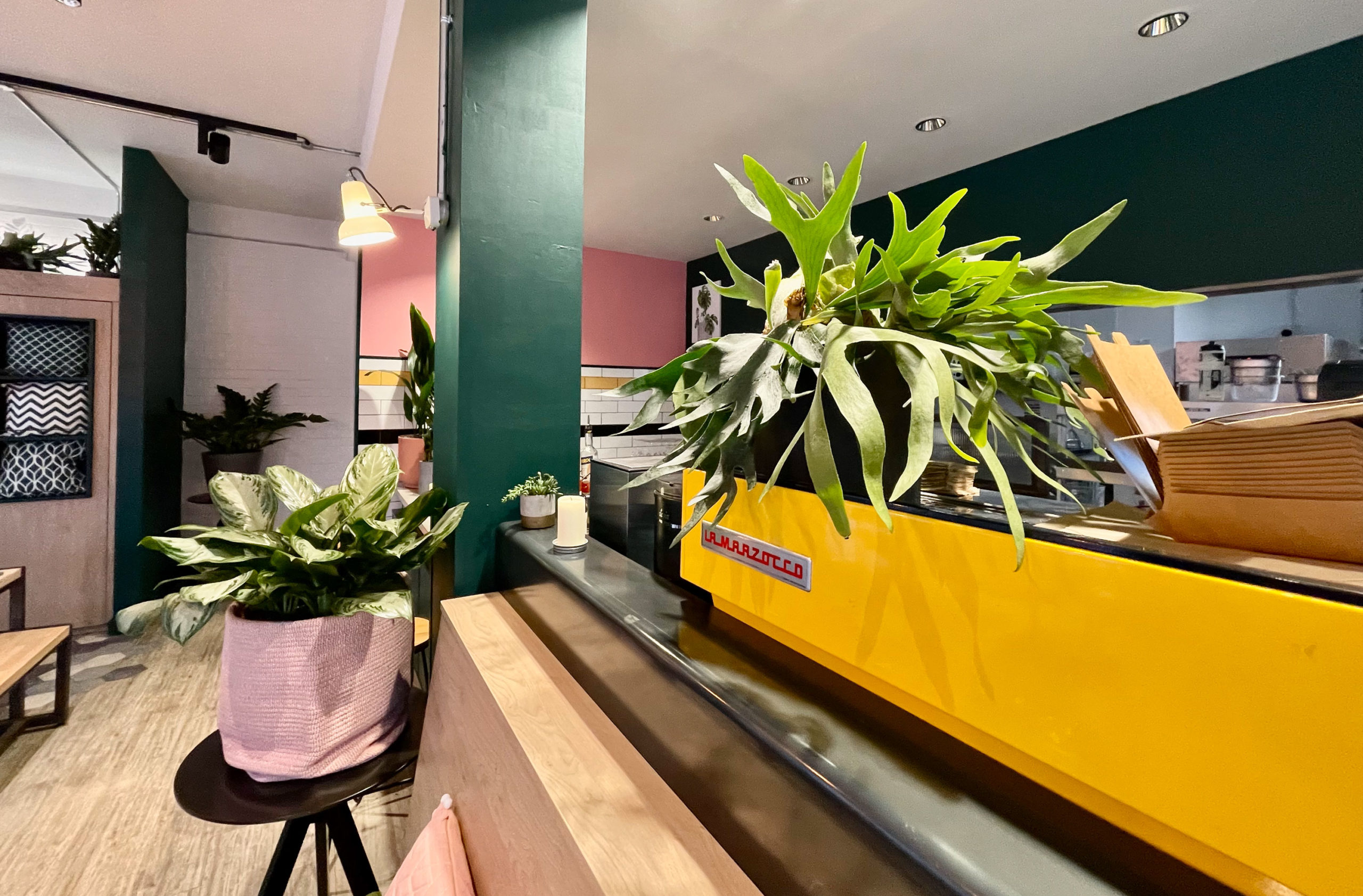 We mixed living plants with artificial plant walls to create a unique, blended plant installation
Feature plants with a variety of leaf shapes and sizes were used to create a vibrant scheme
Different coloured pots with a range of textures matched the branding and interior décor
We have so far been asked to complete two further installations for the same company
Inleaf was recommended to the owners of vegan pasta restaurant Pastan in Bristol's city centre by another client when they decided they wanted greenery to bring a different dimension to the décor of their new restaurant.
The busy and rich colour palette of the interior of Pastan is a mix of vibrant greens, pink and ochre, against natural timber surfaces and dark wood tables.
For the plant installation we were given the brief to complement the natural elements and colours of the space to create a unique, design-led planting scheme for restaurant customers to enjoy. To achieve this we used a range of feature plants with uniquely shaped leaves. We planted them in different coloured pots to match the company branding and the colour scheme of the interior décor.
The display unit between the kitchen and restaurant area was decorated with a leafy Aglaonema 'Stripes' plant in a black round pot next to the taller Zamioculcas zamiifolia in a larger, pale pink ribbed planter.
Schefflera arboricola 'Compacta' with glossy green leaves, Calathea rufibarba 'Wavestar' with uniquely patterned wavy-edged leaves and Aglaonema 'Stripes' were placed on small standalone tables.
For impact a tall, exotic Dracaena fragrans 'Dorado' plant was positioned in the window in a floor standing planter.
We enhanced a feature unit around a large table of 8 covers with banquet seating, by lining a mixture of plants along the overhead shelf. These included platycerium bifurcatum with staghorn antler shaped leaves, sword-shaped sansevieria kirkii, Calathea rufibarba 'Wavestar', and Philodendron 'Narrow' plants also known as the Tiger Tooth Plant due to the jagged edges of its leaves.
Sansevieria kirkii plants in different coloured pots were used to line the windowsill, creating a layer of greenery between the interior and passersby.
For coverage and impact we also installed two 1m² artificial plant walls, one inside the restaurant and the other outside.
The owner of Pastan was delighted with the results, saying that the mixed living and artificial plant installation had provided the required finish to the interior design of the restaurant really well. The Social Media Manager posted: "We couldn't be happier with the new additions at Pastan 🌱 💚 🌿. Thanks to the wonderful Faneau van Niekerk we were able to spruce up our restaurant interior and add a bit of dimension to the place 😊." Since this installation we have gone on to complete to more plant installations at other restaurants owned by the same company.
Next Steps...
Got a project in mind?
We're here to help.
Fill in the form below and one of our team will get in touch.