A lockdown revamp with a low-level plant installation for Central Manchester law firm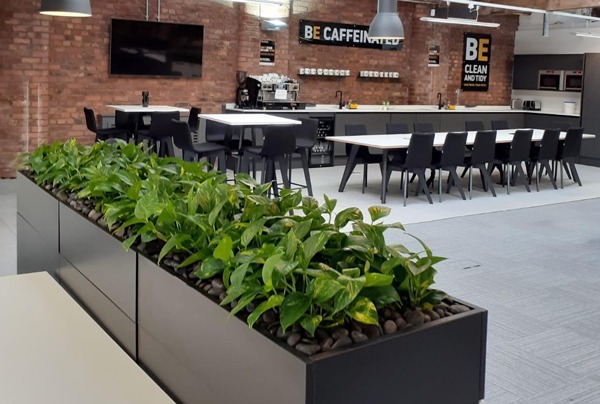 A practical solution to an office refurbishment instigated by COVID-19
Leafy Epipremnum plants were installed for coverage on low level storage units
Inleaf maintenance service will ensure the plants keep their clipped, tidy appearance
The focus was on providing living plants for staff without segregating work areas
Inleaf were approached by Beyond Corporate Law in Manchester's City Centre to create a lockdown living plant installation.
Prior to the Coronavirus pandemic, Beyond Corporate Law had been due to sign a lease for new premises. Instead, it was decided that they should stay in their current offices on Commercial Street and adapt them to accommodate adequate social distancing for their 60 staff members.
Not only did the management team want to ensure the safety of their workforce, they also wanted to provide staff with the more attractive surroundings they'd been expecting from the change of location.
The offices underwent a refurbishment, and the plant installation was the finishing touch. The greenery provided a contrast to the ochre, black, white and grey colours of the décor and furnishings here
As part of the renovations, the 60 desks were reconfigured to create work areas of 2-4 desks within one large open plan space. The customer was keen, however, to ensure that the areas did not appear to be too segregated. We were also asked to avoid using plants that might trail over the side of the units and look untidy.
To meet this brief, we installed low-level, leafy Epipremnum plants on top of low-level storage units at the end of each set of desks. Staff could easily see over the units from a seated position and therefore not feel cut-off from colleagues.
This installation was unique in that the brief was a direct response to lockdown and its impact on the layout of workplaces. The customer's focus was on benefiting staff, ensuring their safety and providing contemporary, healthy surroundings.
The Managing Director had originally requested an artificial installation to avoid the hassle of looking after living plants. He was, however, delighted that Inleaf could maintain the displays on the company's behalf.
We had also sent over information about the benefits of having living plants in the workplace and he was sold. Knowing the health benefits of living plants, the company has been able to ensure that the renovations will benefit staff in the long term.
Next Steps...
Got a project in mind?
We're here to help.
Fill in the form below and one of our team will get in touch.