A jungle inspired installation for Bristol's Amazon distribution centre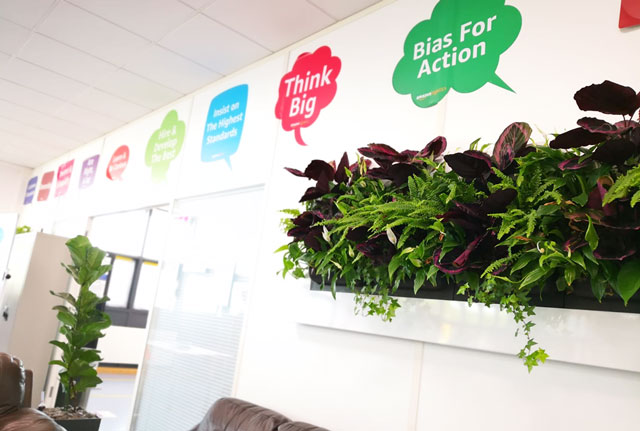 We were asked to create a jungle inspired installation for a distribution centre makeover
Mixed leafy wall plants and tall planters were used throughout the two floors
An orange-tipped spiky plant was used in reception to match Amazon's logo
The locker room was revitalised with large Ficus Lyrata at the end of each row
We were asked to bring colour and innovation to an Amazon distribution centre in Bristol with office plants. The client was keen to explore how plants, and Inleaf's designs, could make the space more stimulating.
The building wasn't purpose-built as a distribution centre, so the installation was part of improvements to make the space practical, but appealing and inspirational. A jungle concept was an overriding factor in the brief we were given, which inspired the use of mixed leafy plants, alongside colourful containers and tall tree-like planters.
Our proposal included a wide range of options which the client narrowed down to their preferred choices. They wanted specific plant types for specific areas, such as desks, walls and floor space.
To welcome visitors we installed orange-tipped Sanseveria plants for the reception desk, which matched Amazon's logo, alongside Yucca Elephantipes in large planters by the entrance doors. In the expansive canteen area and games room we installed Zamioculcas Zamiifolia, branched Dracaena Marginata, and Howea Palms in large planters for floor coverage.
A variety of medium planters were used for the first floor office areas, and the locker room was revitalised with large Ficus Lyrata at the end of each row.
In the games room, canteen, locker room and first floor office we installed living wall units which really opened up the space, injecting freshness and colour to what would otherwise be plain walls. These units are self-contained with no requirement for an irrigation system, providing a cost-effective way of including living walls in the design. We worked with the client to create a planting scheme they liked, using a few tried and tested options as a base and building from there. These units are manually filled with water every three weeks or so. The water sits inside the frame and feeds the plants very gradually.
The client was delighted with the vision of the Inleaf team, and the transformation that the plants created. Since the installation, we have returned to install moss pictures and lettering which spells out the distribution centre's official name. These are made with preserved moss; 30% bun moss and 70% flat moss to create a forest floor concept. The moss pictures are presented within a bespoke slimline white frame. No maintenance is required, and they will continue to look great for years to come. Each Moss picture is a completely unique piece of work.
Next Steps...
Got a project in mind?
We're here to help.
Fill in the form below and one of our team will get in touch.