A grown up installation for Softcat headquarters in Marlow, Buckinghamshire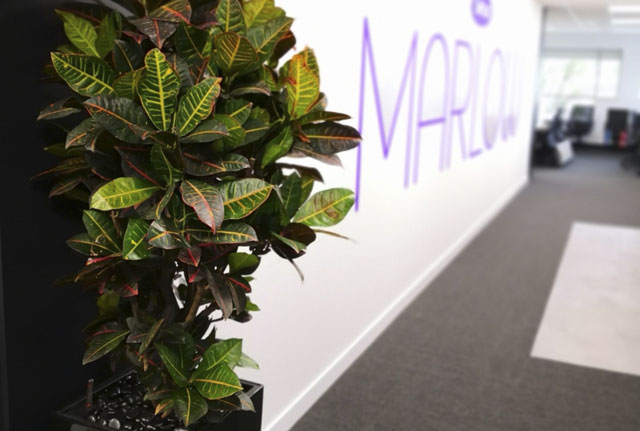 We recently completed the latest stage of an eight-phase office installation in Marlow, Buckinghamshire
We were asked to create a mature, professional space, appropriate to the workforce and visitors
Coloured plants were incorporated to match the company branding
More phases to follow, along with a Christmas commission and installations at other locations
IT infrastructure company, Softcat asked Inleaf to create a more sophisticated environment for their head office in Marlow, Buckinghamshire. Their vibrant and energetic workforce of early twentysomethings has matured into late twentysomethings. The management team felt that their surroundings should reflect a more mature workspace.
We agreed on a gradual installation of eight phases across five floors of offices. The latest phase is phase 4 and included installations in reception and the games area.
In reception we brought in a feature Ficus lyrata tree, in a tall square container, to give the area a fresh feel. For colour, we placed a purple, velvet tipped spiky plant with a pebble top-dressing in a small black container on the reception desk, which matched Softcat's corporate branding. On the reception coffee table we put a low level trailing plant in a black bowl container.
For the busy games area we installed two feature Dracaena plants in tall square, glossy black containers with pebble top-dressing and a self-watering system. At the edge of the games area, next to a step, we brought in black trough planters, filled with leafy Aglaonema plants.
Along with the wellbeing benefits of plants in the workplace, the client wanted to create a fresh, appealing space that the extensive workforce would find inspirational, and feel comfortable in.
Earlier phases had included moss walls and moss frames to match the colour of the fit-out. Even the toilets, along with break-out meeting rooms have moss picture installations! Bespoke feature partition planters with Sansevieria plants were brought in to create sectioned spaces, while Reflexa, Massangeana and Croton plants were sporadically placed throughout the offices in tall square, gloss black containers.
By renting our installations and requesting a regular maintenance package, Softcat have been able to achieve their objectives cost-efficiently and with no extra work on their part.
The client has been very happy with the Inleaf installations so far. We still have further phases to complete which includes an eight metre moss wall on the first floor, consisting of three different surfaces. As a result of the Marlow installation, we will also be working with Softcat at their other UK locations, and supplying their Christmas installations of trees and garlands, for which the brief is "bold and stylish".
Next Steps...
Got a project in mind?
We're here to help.
Fill in the form below and one of our team will get in touch.