A garden living wall for a residential property in Irlam, Greater Manchester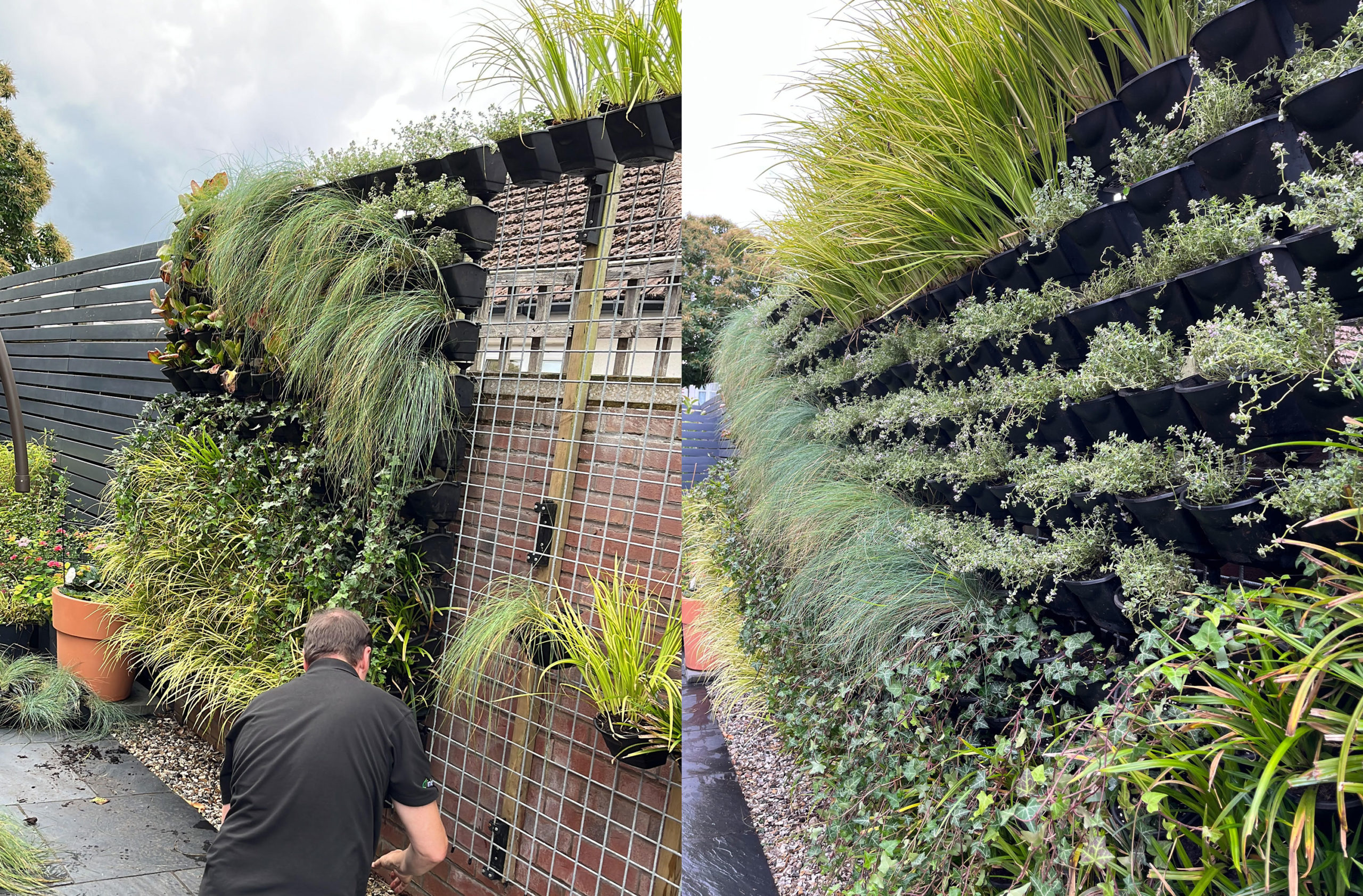 We were asked to install a replacement garden living wall at a residential property in Irlam
The 4.5 metres long and 2.5 metres high living wall was located on the garden boundary wall
We battened out the wall to increase its height and used oversized planters in key areas
Grass mixes, flowering Bergenia and Thyme were used to create a lush and varied living wall
Inleaf were asked to return to a residential property in Irlam, Greater Manchester, where we'd installed a living wall in the garden in 2016. The living wall was located just outside the kitchen of the property, next to the patio area.
After installation, we had maintained the living wall for a few years, after which the property owners asked their gardener to maintain it for them instead. Sadly the wall declined over time so we were asked to return to the property seven years later to install a replacement living wall.
The boundary wall wasn't quite tall enough to provide a sufficient screen for privacy from the next door garden. To overcome this, we battened out the wall to extend it above the existing brickwork which created a more effective screen.
We used a variety of living plants, and installed oversized planters in key areas to create a rich, varied living wall. The plants we chose were different to those used in the initial installation to provide the client with a fresh look for their garden.
The installation included grass mixes of Carex Irish green, Acorus Orgon with its contrasting yellow foliage, Festuca which is a blue tone grass, flowering Bergenia, and Thyme to provide a beautiful scent.
The living wall was 4.5 metres long and 2.5 metres high. The clients were delighted with the installation, pleased that the new living wall returned the overall look of the garden back to its original glory. They were also pleased with how the new living plant selection used for the wall created a welcoming, fresh look.
Next Steps...
Got a project in mind?
We're here to help.
Fill in the form below and one of our team will get in touch.