A fresh living plant installation with artificial accents for an office move in Manchester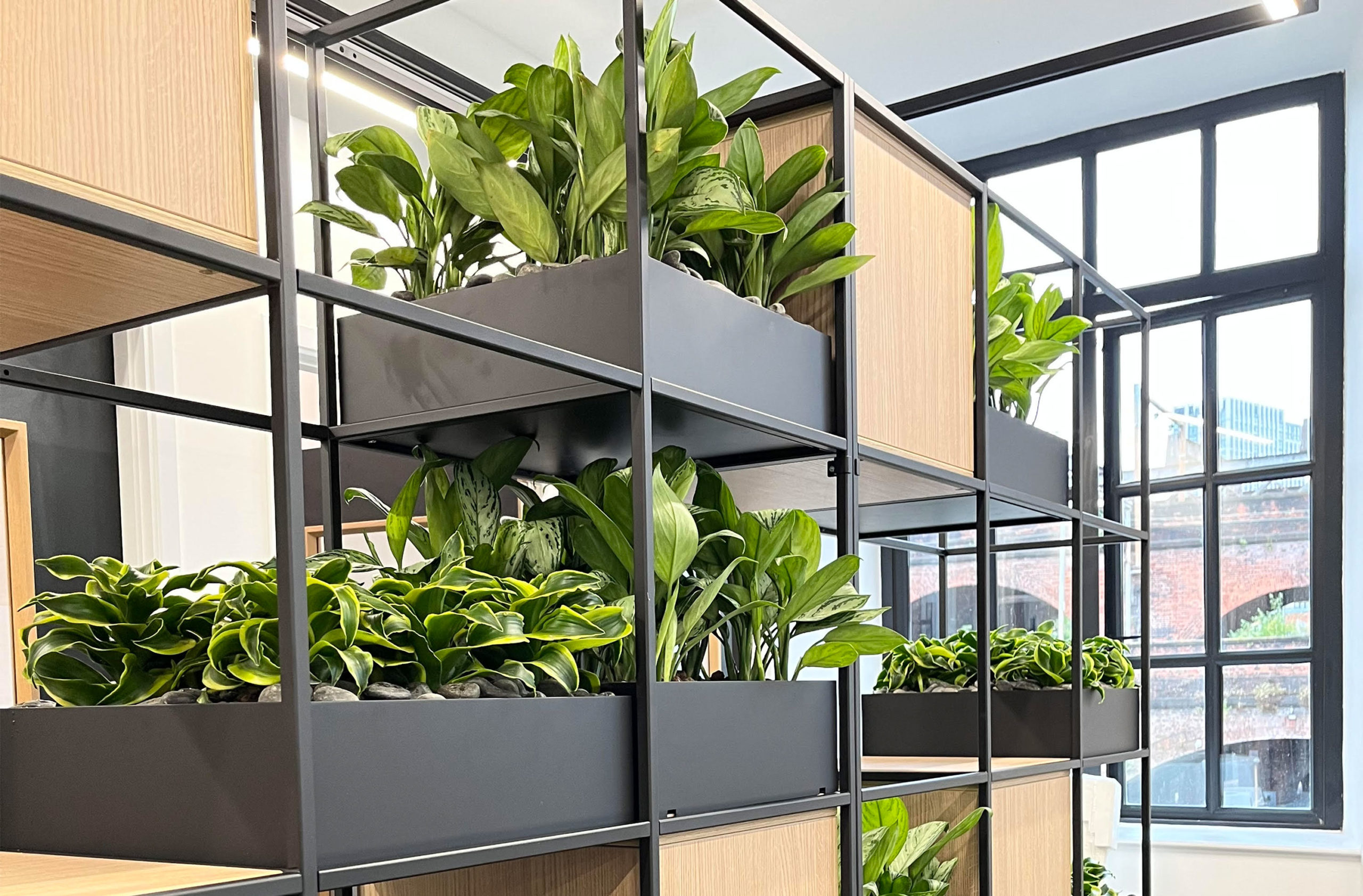 We assisted with our client's office move by storing their existing plants while they relocated
Preserved moss walls with artificial elements were installed around signage and a TV screen
Oversized planters were installed in key areas and evergreen vines placed in cabinet planters
The client has asked for more living plants for their meeting rooms
Inleaf were asked by legal firm, Beyond Group, to supply and install living plants at their new offices in central Manchester.
We went above and beyond on this installation to help the firm achieve a smooth move and have the plant installation they'd envisaged. Usually, when a client moves offices, we move the plants from one office to the other in one day. However, the office furniture on which many of the plants would be located needed to be disassembled in the existing offices and reconstructed in the new offices, so the plants couldn't be moved to the new premises straight away.
To overcome the problem, we removed the living plants from the existing cabinet top planters and took them to our own premises where we looked after them for a couple of weeks. This was made more tricky by the absence of a lift at the client's premises!
The new offices are located in a large, canal side industrial style building with exposed beams. The décor was white, grey and black with touches of yellow. As well as returning the original living plants we complemented the décor with additional elements.
Suspended artificial orbs and preserved moss walls with artificial accents were introduced to the scheme. Bringing artificial elements to living plant installations offers versatility for the schemes and makes maintenance easier to manage. The preserved moss walls were located around signage and a TV unit in an on-trend style that softens the more practical features of a space.
Epipremnum aureum evergreen vine plants were placed in cabinet end planters, and oversized planters were located in key areas.
The client was delighted with the final results of the living plant installation, and grateful for our help with safely storing their plants during the move. We will soon be returning to the site as the client has requested more living plants for their meeting rooms.
Next Steps...
Got a project in mind?
We're here to help.
Fill in the form below and one of our team will get in touch.