A combined living and artificial plant installation for Sr2 Recruitment in Bristol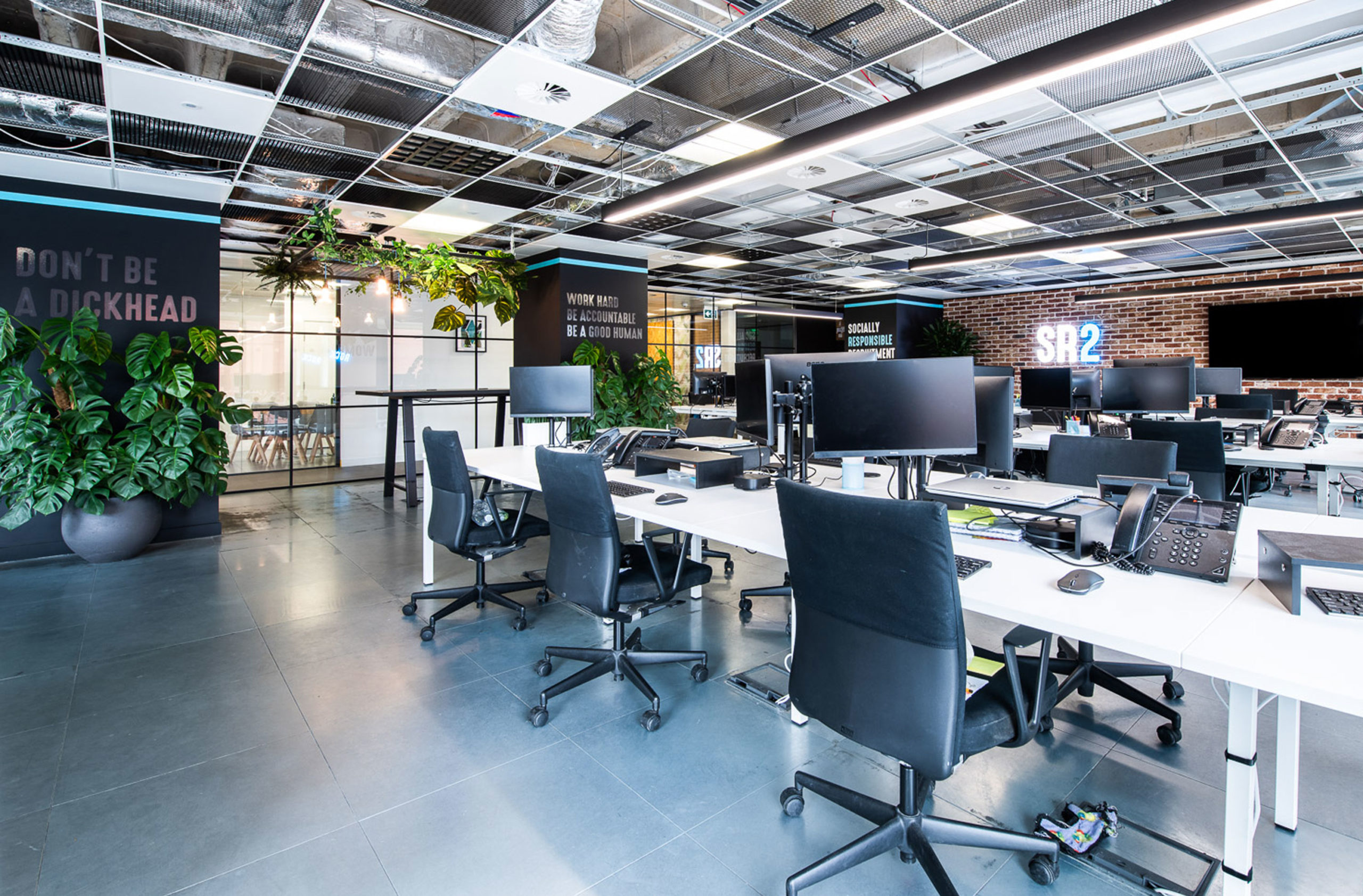 A mix of living and artificial plants were used for this design-led installation
Large standing plants created an imposing, but minimalist planting scheme
Artificial mixed planting was hung from light fittings suspended from the ceiling
Three monstera deliciosa plants were combined to fill a large cement style pot
Inleaf were asked to create a design-led installation of both artificial and living office plants at the headquarters of IT recruitment agency, Socially Responsible Recruitment (Sr2 Recruitment) in Bristol.
The client wanted a minimalist design with a bold statement in the reception area and offices. To achieve this, we decided upon large, imposing floor standing plants, some of which are 2m tall.
On the lower level of the offices we combined three monstera deliciosa plants together in one large cement style, dark grey potty pot. We created two of these. They were shorter than some of the other plants, but with three in each pot they were lush and voluminous, so equally striking.
In corners we positioned a 180cm dracaena fragrans plant and a 190cm strelitzia nicolai in matching pots to the monstera deliciosa. The strelitzia nicolai strikes a particularly commanding figure with its leaves touching the suspended ceiling.
For the reception area we chose a ficus lyrate which, at 2m high, offers an eye-catching focal point for visitors. Artificial foliage was hung from the light fittings grill that is suspended from the exposed ceiling. This on-trend design consisted of mixed artificial planting including Boston fern, pothos garland and pothos bush.
In the boardroom, a philodendron scandens plant stands tall at 2m high in contrast to the smaller sansevieria zeylanica on the opposite side of the room.
The client had an existing yucca plant that they wanted to keep so we supplied another cement style potty pot to match the rest of the scheme.
Next Steps...
Got a project in mind?
We're here to help.
Fill in the form below and one of our team will get in touch.